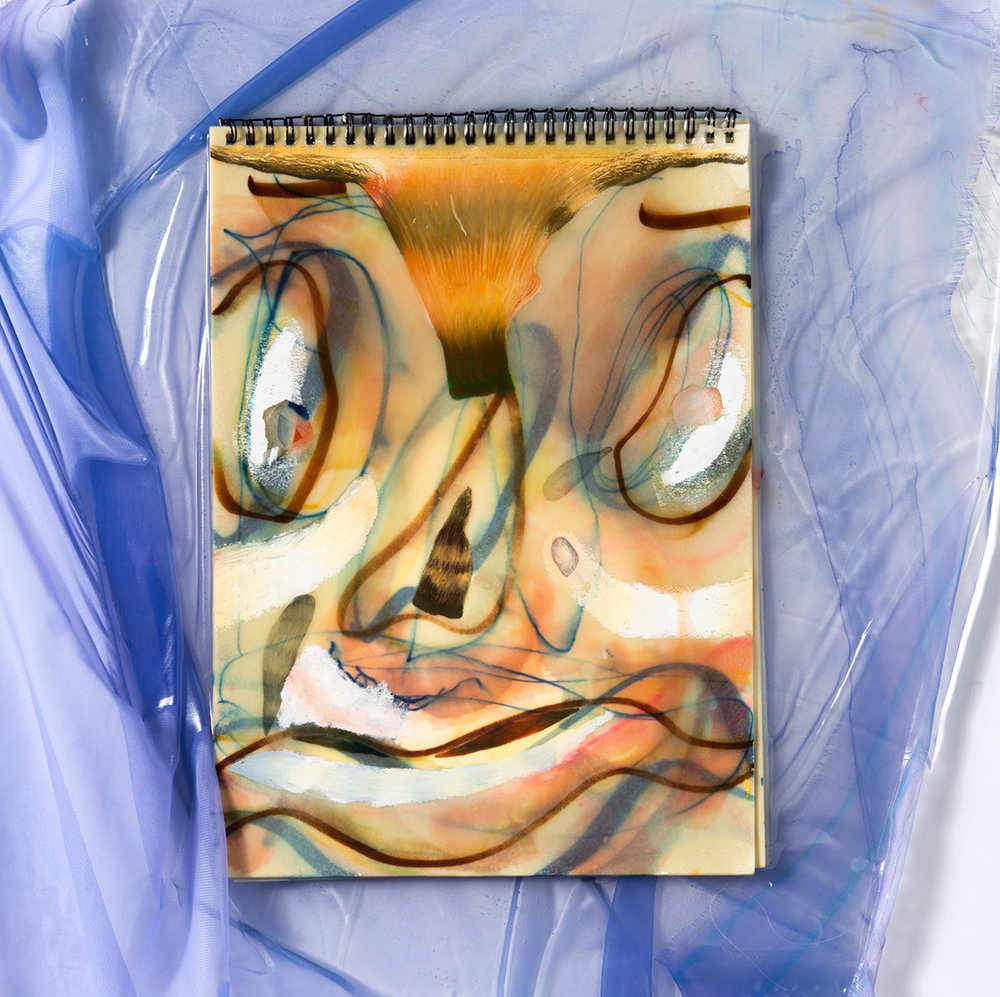 TIP OF THE nose
HEATHER LEIGH MCPHERSON
MARCH 18 - APRIL 15, 2017
RECEPTION: MARCH 18, 6 - 9PM
GRIN is pleased to present Tip of the Nose, a solo exhibition by Heather Leigh McPherson.

This body of work assembles two- and three-dimensional gestures into wall-hanging reliefs, paintings on canvas, and projected videos. Exploring concepts of perception and transparency, McPherson takes the surface of the painting as a metaphor for communication. What is transmissible from self to other? What can transgress the membrane of the surface, whether physically or perceptually? As the nose is too close to the eye to be seen, proximity precludes apprehension.
The exhibition is laced with imagery of faces. Another kind of boundary, the face is always in between; it is a site of contact between vision and the body, the organ that translates sense into expression. McPherson turns to the concept of faciality as a way to describe facial representations outside the language of portraiture. This framework situates the face as a surrogate for other discursive forms of meaning— a constructed field of values and coercions.
McPherson's paintings place colorful poured paint alongside shapes rendered with digital smoothness; smoky textures seem to cross through the picture plane, unsettling the surface. Translucent, low-relief sculptures combine textiles, clear epoxy, and delicate paper drawings. Within the drawings, iconography of the face accompanies expressive fragments—scrawls, text, and cartoons—that function as self surrogates. This collage-like grammar underscores the permissiveness of the exhibition, which spans text and image, as well as sculptural, painterly, and time-based processes. McPherson's work performs the indeterminacy that attends expression, desire, and communication as a whole.

//

Heather Leigh McPherson lives and works in Providence, RI. Recent solo exhibitions include High Bottom at Actual Size Los Angeles, 30 Special Colors at Greenlease Gallery in Kansas City and Anytime Concept at Vox Populi in Philadelphia; she was also included in the 2016 deCordova New England Biennial. Winner of the 2015 Rhode Island State Council on the Arts Merit Fellowship in Painting, McPherson holds a bachelor's degree from Washington University in St. Louis and a master's from Rhode Island School of Design. She has been on the full-time faculty of Providence College since 2009.

hmcpherson.com